HIV cases continue to rise in the North East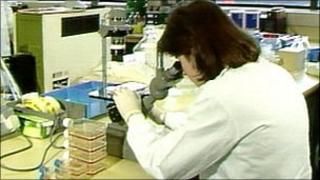 The number of people receiving treatment for HIV in the north east of England is continuing to rise.
Latest figures from the Health Protection Agency (HPA) revealed that 1,195 people were being treated in 2009, compared to 1,086 in 2008.
This represents a 10% increase - the previous year it was 8%.
However the region still has one of the lowest levels of HIV infection in England, with 46 cases per 100,000 people, compared to 116 nationally.
The HPA estimates that there are 86,500 people living with HIV in England, and a quarter of these are not aware that they are infected.
It is thought that a quarter of people with HIV in the North East are similarly unaware of their status.
Anyone who has had unprotected sex with a new or casual partner is urged to take a free and confidential test.
Dr Kirsty Foster, consultant in health protection for the HPA in the North East, said: "Advancements in treatment mean HIV is no longer a death sentence.
"The sooner HIV and other sexually transmitted infections are diagnosed and treated, the better the treatment outcome and the lower the risk of passing it on to others."