A11 widening in Norfolk and Suffolk to start by 2015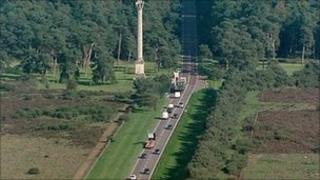 A project to widen the last section of the A11 into a dual carriageway in Norfolk and Suffolk will start by 2015, the Highways Agency has revealed.
The £134m scheme escaped the cut in the Comprehensive Spending Review after failing to be signed off by the Labour government's Department for Transport.
The Highways Agency said: "The A11 Fiveways to Thetford Improvement scheme will start construction by 2015.
"This will be subject to the outcome of statutory processes."
The proposed dual carriageway A11 will be built between the Fiveways roundabout at Barton Mills, Suffolk, and the roundabout at the southern end of the Thetford Bypass, Norfolk, a distance of 9.1 miles (14.8km).
The A11 is dual carriageway from the M11 to Norwich, except for the section between Barton Mills and Thetford.
The Highways Agency concedes that it provides an important link between Norfolk, the rest of the east of England and the London area.
Coalition MPs have been lobbying residents, businesses, councils and other organisations to apply pressure to the government for an early start on the project.