More than 90% of taxis not properly insured, audit shows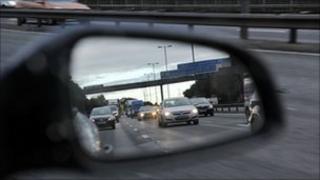 More than 90% of taxis in some parts of England might not be properly insured, an audit leaked to the BBC suggests.
Concerns have been raised after checks on 1,200 licensed minicab and hackney carriage drivers across several English local authorities, outside London.
The study, which was carried out over the past 12 months, found 93% of those sampled were not properly insured.
It raises concerns for taxi passengers injured in crashes, as well as vehicles involved in accidents with cabs.
An industry body, the National Private Hire Association, said it believed the audit was small and not representative.
In some cases the study found that drivers' insurance failed on one or two clauses, while in others they had no insurance at all.
'Right to know'
The research was conducted by insurance auditors to check the accuracy of insurance certificates handed to local authorities.
It found that in some cases, brokers had sold the drivers incorrect insurance while some drivers had provided information fraudulently.
An insurance industry insider was so concerned about the problem he decided to leak the research to the BBC.
He said: "I feel that from a public safety point of view that the public have a right to know what's really happening as they are taking a cab from home, or a cab in to town for drinks.
"I feel that the public have got a right to know."
While local authority licensing officers can check whether a taxi driver's insurance certificate is valid, they have no way of knowing if the information supplied to insurers by the driver is accurate.
The insurance industry insider said: "Currently licensing authorities don't have the ability to validate what is behind the certificate.
"I feel that they should be running checks against the Motor Insurance Database as a bare minimum to validate driving experience, taxi-driving experience, claims history and other things."
In a statement, the National Private Hire Association said, in reality, the public never had any assurances about "whether the vehicle holds bona fide insurance or a fraudulent policy".
Paul Bettison, chairman of the Local Government Association which represents all local authorities, agreed that councils could "only take insurance documentation on face value".
He said taxi licensing was in need of an overhaul as the current legislation dated back to 1847.
The BBC investigation also found that over the past three years, checks by local authorities across the West Midlands had resulted in more than 300 prosecutions of taxi drivers with invalid insurance.
Insp Andy Bridgewater, of West Midlands Police, said: "If there is a concern over the insurance then we will will seize the car.
"And if it's uninsured, we'll keep the car and potentially crush it in some circumstances."
During the run-up to Christmas, he said police would be stopping taxis and minicabs to check their roadworthiness and establish whether drivers had valid insurance.
The Insurance Fraud Bureau (IFB) said it was in the process of developing new systems to allow local authorities to access the IFB database to help them make licensing decisions.
And a Commons Select Committee has been set up to investigate taxi licensing in the new year.
Anyone with information on uninsured taxis can call the IFB on 0800 328 2550.
A programme on taxi insurance can be seen on Inside Out at 1930 GMT on Monday on BBC One.