Surrey NHS trusts show low death rates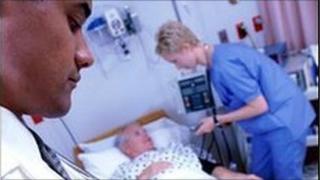 An analysis of deaths in hospitals across England has found three Surrey NHS trusts have lower than expected mortality rates.
The trusts were Ashford and St Peter's Hospitals, Epsom and St Helier, and Frimley Park Hospital.
Monitoring body Dr Foster produced the survey which looks at overall death rates and deaths after surgery.
The study also looked at other indicators to try to build a picture of patient care across the country.
'Safety improving'
Dr Foster found 19 NHS trusts had higher death rates than would be expected. But the report on 147 trusts showed an improvement on 2009, when the total figure was 27.
Roger Taylor, director of research at Dr Foster, said there seemed to have been an overall improvement since last year.
He said: "Safety standards are improving, mortality rates are falling, the variation between the best and the worst is getting less."
Health Secretary Andrew Lansley has welcomed the report and said the information was vital to allow patients to make informed choices about care.
Frimley Park Hospital NHS Foundation Trust runs one hospital, Frimley Park Hospital, which cares for patients across Surrey, Hampshire and Berkshire.
Ashford and St Peter's Hospitals NHS Trust runs Ashford Hospital in Middlesex and St Peter's Hospital in Chertsey.
Epsom and St Helier University Hospitals NHS Trust owns and runs four hospitals - Epsom Hospital in Epsom, Surrey, and three hospitals in south London, St Helier Hospital, Queen Mary's Hospital for Children, and Sutton Hospital.