More snow and ice disrupts travel in North of England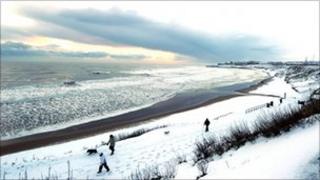 Police are continuing to urge motorists to drive cautiously across the north of England after more snow and freezing temperatures.
Northumbria Police said motorists should decide whether their journey was necessary before venturing out. They warned that conditions varied from place to place.
Durham Police said all roads in the force area were "passable with care".
Temperatures hit -5C in Durham on Saturday night and -3C in Carlisle.
Durham County Council said 45% of the county's roads were routinely cleared and salted during freezing conditions - more than 1,000 miles each day.
It said on Friday night and into the early hours of Saturday more than six inches (15 cm) of snow fell in two hours.
Farmers' help
It said farmers had been helping gritting crews and they had redeployed staff from other areas to assist.
In Cumbria police said conditions were improving but advised extra care on the roads.
On Saturday the Kendal Mountain Rescue team were called out to help an ambulance which was struggling in ice.
It was unable to reach an elderly man who was unconscious after a fall at his home in Underbarrow. The team transported the patient to the ambulance.
Depths of snow lay at 14cm (5.5ins) in Boulmer, 16cm (6.2ins) at Albermarle and 19cm (7.4ins) at Redesdale Camp.
Newcastle Airport is open and flights are arriving and departing.
Unusual weather
However it warned significant snow overnight had resulted in some disruption and passengers should be prepared for changes to the schedule.
Durham Tees Valley airport is experiencing some disruption to flights.
East Coast trains has warned there will be disruption to some services throughout the day, and a number of bus services have also been affected.
Stagecoach, Go and Arriva are operating a skeleton service owing to the conditions on the roads. Buses are only running on main routes and all Perrymans buses in Berwick have been cancelled.
Some sporting fixtures were cancelled on Saturday but Newcastle United's match against Chelsea went ahead on Sunday after snow was cleared from the pitch, finishing in a 1-1 draw. However, the Chelsea team's flight back to London was cancelled, leaving them to travel by road.
Another 10-20cm (4-8ins) of snow on higher ground is forecast for the region later, with the poor weather conditions continuing into next week.
The unusual weather has been caused by high pressure over Greenland and low pressure in the Baltic, forcing cold winds from the north east across Europe.