Yorkshire Ripper starts bid to appeal 'whole life' term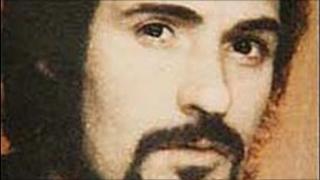 The Yorkshire Ripper Peter Sutcliffe's mental disorder justified a minimum jail term instead of an order he should never be released, judges have heard.
Sutcliffe is applying for permission to challenge a High Court order that he can never be released from prison.
A barrister representing Sutcliffe told the Court of Appeal his client's mental illness justified a minimum term of a "finite" number of years.
Three appeal court judges reserved judgement until a later date.
'No release implications'
It is not clear when the result of that judgement will be given.
Sutcliffe, now 64, received 20 life sentences in 1981 for murdering 13 women and attempting to murder seven others in Yorkshire and Greater Manchester.
The serial killer is detained at Broadmoor psychiatric hospital after being transferred from prison in 1984 suffering from paranoid schizophrenia.
At the High Court hearing on 16 July, Mr Justice Mitting ruled the former Bradford lorry driver, now known as Peter Coonan, must serve a "whole life" tariff.
Edward Fitzgerald QC, representing Sutcliffe for his challenge against the ruling, said: "We accept that the applicant was convicted of the brutal murder of 13 women and the attempted murder of seven others and, on the face of it, we accept that the number and the nature of the murders is such that would call for a whole life tariff.
'Put his case'
"The sole submission in this case is that the disorder suffered, and still suffered by the applicant, is a sufficient mitigating circumstance to justify a long, finite term of years instead of a whole life tariff."
Mr Fitzgerald told the three Court of Appeal judges: "Can I just stress that, of course, the tariff only means the minimum term he must serve before he can apply for parole and it does not have any implications as to release.
"It just means that he would have the opportunity to put his case to the Parole Board."
Peter Wright QC, opposing the appeal on behalf of the Crown, submitted that there was "no mitigation capable of displacing the starting point of whole life" for what he described as a "terrible catalogue of crimes".