Gatwick Airport stays closed as fresh snow predicted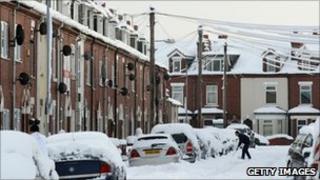 More heavy snow warnings have been issued by the Met Office as the wintry weather continues to cause disruption to air, road and rail travel.
All flights at Gatwick have been halted until at least 0600 on Friday and ice is causing problems on England's roads.
Met Office heavy snow warnings are in place for Yorkshire and Humber, the North East, the East and London and South East.
It was thought that up to 15cm could fall in places overnight.
Kent, Sussex, Surrey and Essex are expected to see some of the heaviest snow.
Supt Chris Moon, of Surrey Police, said the county's conditions were the worst he had ever seen and were likely to deteriorate further.
He added: "I have put out several severe weather warnings in my career, but this one I really must stress."
More than 100 drivers were left stranded in South Yorkshire as heavy snow caused major disruption across the region.
Treacherous driving conditions on a stretch of the A57 between Anston and Worksop meant many drivers were stranded in their vehicles.
Barnsley Hospital, in South Yorkshire, closed its outpatients department and cancelled non-urgent operations for Wednesday and Thursday because of the snow.
Some residents of Binbrook in Lincolnshire said the village was virtually cut off because of the heavy snow.
In Grimsby, North East Lincolnshire, health chiefs were using 4x4 vehicles to collect staff unable to reach Diana Princess of Wales Hospital.
Durham Tees Valley Airport was closed but a spokesperson said it was hoped it would reopen on Thursday morning.
There was also disruption at London City Airport, Robin Hood Airport in Doncaster and Leeds Bradford Airport on Wednesday.
Passengers faced delays of up to an hour on Eurostar services, and half of the services between London and Brussels on Thursday have been cancelled with passengers urged to check Eurostar's website for further information.
HM Courts Service also warned that several courts in Yorkshire and the East Midlands had been shut because of the weather.
Many schools closed because of freezing temperatures.
Met Office forecaster David Price said the snowy conditions would continue on Thursday but Friday should see a reprieve, with more snow on the way during the weekend.
Travel disruption includes:
In Surrey, police warned people in the Reigate and Leatherhead areas not to travel
Up to 400 lorries were stranded on the M25 in Kent and Surrey on Wednesday morning. Drivers are advised not to travel on the motorway
In South Yorkshire, more than 100 motorists were stranded and bus services were cancelled in Sheffield, Rotherham and Doncaster
In the South East, there are no trains between London Victoria and Dartford, Charing Cross and Hastings and between Strood and Paddock Wood
There are no flights in or out of Gatwick Airport until 1000 GMT on Thursday at the earliest and delays at London City Airport
Durham Tees Valley Airport has suspended flights until further notice
Heathrow is expecting disruption later to inbound flights because of problems at other airports
The Humber Bridge in East Yorkshire is closed and train and bus services are severely disrupted across the Humber region
Half of the Eurostar services between London and Brussels on Thursday have been cancelled
Gatwick Airport spokeswoman Sarah Baranowski said the runway was closed at 2230 GMT on Tuesday.
"It is vital that passengers do not make their way to the airport and check our website and with their airline for updates," she said.
BBC Oxford reporter Emma Vardy who was due to fly to Gatwick from Madrid was told she would not able to travel until Saturday.
"I was told that the earliest flight I would be able to return on was Saturday, but passengers behind me were told they may not fly home until as late as Monday or Tuesday of next week.
"Some decided to get refunds on their flights, others opted to transfer onto flights to Paris in the hope of catching the Eurostar back to the UK," she said.
In Sheffield, Ian Cawthorne, 25, and Alecia Houghton, 22, battled through snow to travel by tram to their wedding ceremony at the city's Town Hall after their cars failed to turn up.
However, two other couples who had been due to marry at the same venue had to cancel their ceremonies.
The UK has been experiencing the earliest widespread snowfall since 1993.
The unusual weather is being caused by high pressure over Greenland and low pressure in the Baltic states, forcing cold winds across Europe.