More snow problems in Tyneside and Northumberland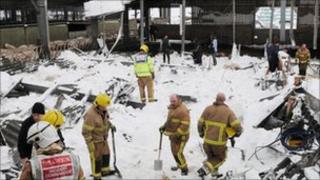 More snow showers are forecast for across the North East later and there is a severe weather warning in place.
Dozens of schools across Tyneside and Northumberland were again forced to close on Thursday.
Newcastle Airport was open but there was some disruption to flights including a number of cancellations.
Elsewhere, firefighters were called to rescue 200 sheep trapped when a barn roof caved in under the weight of snow near Alnwick, Northumberland.
Rescuers from Northumberland Fire and Rescue Service and Northumbria Police dug their way through deep snow to clear a path to the trapped animals at Dyke Farm, Newton-on-the-Moor, near Alnwick.
Alex Bennett, acting chief fire officer for the fire and rescue service, said: "As the severe winter weather continues into week two the amount of snow building up is putting farm buildings at risk.
"We would advise farmers to regularly inspect their sheds containing animals.
"People should not get on to shed roofs without the correct safety equipment but where possible evacuate animals until the snow can be removed."
Hazardous conditions were also reported on a number of roads including the A68, A69 and A1 in Northumberland.
Passengers due to travel from the airport were advised to contact their airlines if they had any concerns and be prepared for disruption to their flights.
A revised timetable is again in operation for trains on the East Coast Mainline.
A lorry driver had to have glass removed from his face after two youths threw a slab of ice from a bridge on to his lorry on the A1 near Seaton Burn on Wednesday, shattering his windscreen.
Farmer Darren Willey has been using his tractor to ensure staff get to the maternity unit at Hexham General Hospital.
A team of 25 volunteers from the British Red Cross has been supporting the North East Ambulance Service.
They have been responding to some calls such as strokes, fractures and minor injuries and using a 4x4 vehicle to take people home from hospital and to take intensive care nurses into hospitals.