Snow grounds Gatwick Airport flights for second day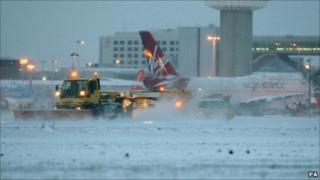 Flights at Gatwick Airport have been grounded until at least 0600 GMT on Friday after further heavier snow.
The airport said a 100-strong team were working to clear the snow and stop the runway from icing over as temperatures dropped.
Up to six inches (15cm) more snow fell overnight in Sussex and at least two inches (10cm) fell throughout the day.
Elsewhere, hundreds of passengers spent the night on an abandoned train at Three Bridges station in West Sussex.
'Deteriorating conditions'
Passenger Rebecca Forsey said: "It was an absolute nightmare. We had to wait around for several hours in the cold on a freezing platform.
"We finally got something to eat at 4am."
The airport had hoped to reopen the runway at 1000 GMT on Thursday but said "deteriorating conditions" meant it had remained shut.
People have been urged not to travel to Gatwick.
A spokeswoman said: "Snow is expected to continue overnight with temperatures potentially dropping to as low as -10 degrees.
"Our teams are working around the clock to make the runway safe for aircraft to use and get our airlines and passengers flying again."
Passengers have been urged to contact airlines to find out when individual flights would resume.
More than 260 schools were closed in West Sussex, 192 in East Sussex and 64 in Brighton and Hove.
Met Office heavy snow warnings have been put in place for south-east England.
There have also been major delays on the road and rail networks.
Sussex Police have urged motorists to travel only if their journey was absolutely necessary.
'Incredibly sorry'
East Sussex County Council said its highways teams were continuing to plough and salt the main roads across the county but some routes remained impassable.
Southern Railways said most of its services south of East Croydon were suspended on Thursday because of the weather.
One train failed on the line near the Three Bridges station on Wednesday evening, another train got stuck behind it, then the 2017 from Victoria to Littlehampton joined the queue at 2130 GMT.
Southern trains decided to move passengers from the first two trains on to the third and try to continue their journey.
The passengers spent the rest of the night on the stationary train as it had heat, a Southern spokesman said.
They finally left Three Bridges station at 0515 GMT on another train.
A company spokesman said: "We are incredibly sorry for these passengers and we clearly wanted to get them home and our people did everything they could to get them home."
Southeastern trains said it was running an "extremely limited" service and no trains were running between Hastings and London.
South East Coast Ambulance Service (SECamb) said its staff were severely hampered by the snowy conditions.
Director of operations Sue Harris said: "We are now focusing our efforts on getting to those patients who need us the most."
The UK has been experiencing the earliest widespread snowfall since 1993.
BBC South East Today's weather forecaster Kaye Forster said: "Looks like the worst is behind us now.
"A few flurries continuing this evening, but it won't amount to much more.
"They will become confined to the east coast and will eventually die away by the end of the night."