Walker still missing in Cumbria amid fresh snow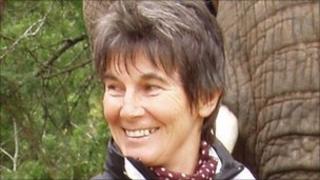 The search is continuing for a missing fell walker amid more snow in Cumbria.
The operation to find Gwenda Merriot, 60, of Wilton, near Marlborough in Wiltshire, started on Tuesday when she was last seen in Ambleside.
The active search by mountain rescue team volunteers has now ended but posters are being put up and hotels and B&Bs are being contacted.
Meanwhile, more than 80 schools in Cumbria have been closed and a number of roads have been affected.
Volunteers from Langdale and Ambleside Mountain Rescue Team carried on their searches with dogs for Ms Merriot until late on Wednesday.
But they have now been stopped due to the severe weather conditions and because there was no further information about her whereabouts.
Posters are being put up in the area and hotels are being contacted. They are also appealing to taxi drivers or anyone who saw someone hitchhiking in the area to contact them.
On the roads, Kirkstone and Hartside Passes were closed along with the A66 at Bowes, County Durham, which is used by many motorists from Cumbria.
Hazardous conditions were reported on a number of other roads.