Yorkshire Water to recruit more staff to tackle leaks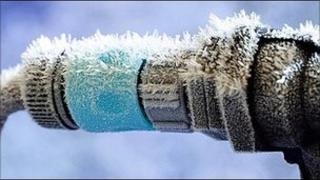 A water firm supplying more than four million customers is taking on extra staff to deal with burst pipes caused by the freezing weather.
Yorkshire Water said it was spending an extra £7m increasing "operational presence" and improving IT systems.
The firm said it already had 140 people working on leakage detection and would be recruiting another 120 staff.
Yorkshire Water said it had recorded a 60% increase in reported leaks and frozen pipes.
In a statement the company said it had seen a steep increase in the number of pipe bursts it was called to deal with.
Engineers had been attending around 68 bursts a day which was almost a quarter more than in the same period last year.
Tony O'Shea, of Yorkshire Water, said: "With a colder than average winter forecast for the region, there is a great deal of activity under way to ensure we're in the best possible position and doing everything we can to minimise the cold weather impact on our pipes."