England reacts with disappointment to World Cup verdict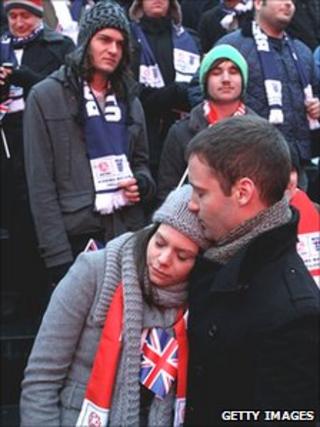 People in English cities which would have hosted World Cup games in 2018 have been expressing their disappointment at the bid's failure.
Fifa chose Russia to host the 2018 tournament and Qatar as host for 2022.
Twelve places across England had been shortlisted as host cities and fans had been looking forward to attending matches in their home country.
Football clubs and local councils hoped for improved stadiums or financial boosts from staging the tournament.
England had planned to stage matches in Birmingham, Bristol, Leeds, Liverpool, London, Manchester, Milton Keynes, Newcastle, Nottingham, Plymouth, Sheffield and Sunderland.
Tens of thousands of fans from the 32 competing nations would have come to England to support their teams.
James Berresford, chief executive of tourism body VisitEngland, said: "We are all obviously disappointed that England has been unsuccessful in its bid to host the 2018 World Cup."
'Difficult to take'
Ex-footballers were among those who also expressed their dismay that the World Cup would not be held in England for the first time since 1966, when England also won the tournament for the only time.
Former Liverpool winger Ian Callaghan, who was part of England's triumphant 1966 World Cup squad, said: "We had so much to offer. We were so geared up for winning we were obviously very disappointed when the result was read out.
"It would have been a fantastic thing for Liverpool, having teams from all over the world play here."
Former Manchester City and England star Mike Summerbee said: "I am very disappointed. I thought we had turned it round.
"Both the clubs in Manchester and the council had really got behind the bid. It's just very difficult to take."
Paddy Crerand, former Manchester United player, added: "It's a crying shame. England had all the right facilities. I can remember 1966 and it was a very exciting time."
Councillor Adam Ogilvie from Leeds City Council said: "It's disappointing that Leeds has missed out on the chance to be part of the greatest sports tournament in the world.
"The bid the Leeds City Region had submitted was fantastic and the England 2018 bid was very strong.
"It would have ensured global coverage for the whole city region and provided a huge economic boost.
"We have the facilities, fans and support to be a host city and I truly believe it is the world's loss that Leeds and this part of Yorkshire will not be involved."
Wayne Coyle, Sheffield's bid director, said he was "very disappointed" but the city's council leader Paul Scriven said: "The city will benefit from the work of the bid team which has seen local sporting organisations work together for the benefit of the community, whilst at the same time Sheffield was profiled on a national and international stage."
'In the dark'
In the North East, both Newcastle and Sunderland would have staged matches.
James Ramsbotham, chief executive of the North East Chamber of Commerce, said: "This is a blow to North East England, not least because of the benefits to the local economy that hosting an event of this scale could have brought to the area, but also because there is a real passion for the sport in this area of this country."
Alan Shearer, Newcastle legend and former England captain, who played in the 1998 World Cup, said: "I was hoping that I might see a World Cup in my lifetime in England. I wasn't born in '66.
"If we haven't got it this time, when are we ever going to get it? I felt very confident with Prince William and the Prime Minister behind us."
Niall Quinn, chairman of Sunderland, said: "We wish Russia well. I'm surprised they got it, I have to say.
"I don't want to feel bitter at all but it's just a shame [when] what you think should be the main components of the bid have been overlooked."
'A blow'
Former West Bromwich Albion player Brendan Batson, who had backed Birmingham's bid to be a host city, said it was "hugely disappointing" that England had been eliminated in the first round of voting.
He said: "One of the problems is the general public don't understand the process and until we can sort of demystify what that process is, we'll always be in the dark as to why we didn't get it.
"You look at our bid and you're thinking it does stack up against the others and the other people will say 'well our bid stacks up' as well, but nobody knows."
London would have hosted the final - at Wembley - while matches would also have been held at either Arsenal's Emirates Stadium, the 2012 Olympic Stadium, or the planned new ground of Tottenham Hotspur.
Mayor Boris Johnson said: "We put together a cracking bid, our technical specification was top notch and our stadiums would have been packed to the rafters.
"Londoners love football. This is a blow."
Nottingham Forest and Bristol City had planned to build new stadiums to stage matches while Plymouth Argyle's ground would have needed major redevelopment, which will now be in question.
Nottingham's World Cup bid director Hugh White said the driving force of Fifa's technical requirements for the city's new stadium had gone.
"We will have to reappraise that but I know Forest have for a long time wanted a long-term stadium solution," he said.
"I'm sure there will be discussion around that, but this opportunity has gone and we are very disappointed."
'Underwhelming moment'
Colin Sexstone, Bristol City's chief executive said: "We started the stadium planning many years before the World Cup bid had been put in and we'll crack on with it.
"It's as important as ever for us that we have a new stadium and that Bristol has a new stadium."
Vice Chairman of Plymouth Argyle Paul Stapleton said: "I don't think we could have done anymore. It's a great underwhelming moment."
He added: "The Plymouth bid was fantastic, a lot of effort, a lot of work for the county.
"So many people put so much effort into what went into the bid. It was going to be a legacy for the youngsters of Devon and Cornwall, and it's just so disappointing."
Milton Keynes - like Plymouth and Bristol - would have been hosting a major international football event for the first time.
Rita Spada, of the Milton Keynes Chamber of Commerce, said she was "disappointed".
But she said: "From a Milton Keynes point of view we have achieved what we set out to do.
"Milton Keynes is appreciated as one of the top places. We are in with the big guys of football, such as Liverpool."
John Hallett, of Destination Bristol, said: "It's very, very disappointing but we have to live with it."