Santa boot camp at Warrington shopping centre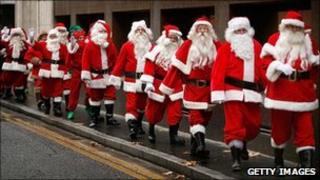 A Father Christmas workshop is being held in a shopping centre in Cheshire, after it found parents were complaining about the standard of Santas.
Golden Square Shopping Centre, in Warrington, is hosting the free Big Black Boot Camp on Friday.
Training will include Santa's Code of Practice, how to look the part and how to deal with upset children.
Father Christmases will also be quizzed on the most popular toys of the moment, a shopping centre spokesman said.
The shopping centre said respondents to its survey said the standards of Santas had slipped in recent years.
They were criticised for not looking or sounding right by 40% of parents questioned.
Two fifths of parents also complained that the Santas did not know how to communicate properly with children or what the popular toys were.
Ian Cox, marketing manager at Golden Square, said: "A trip to the grotto used to be the quintessential family experience at Christmas and it's sad to see so many parents across the UK turning their back on Santa.
"We want to help make grotto visits a memorable experience for the right reasons for the whole family and we hope that this training will see mums and dads believe in Father Christmas again."