Brothers' campaign to strike off German GP fails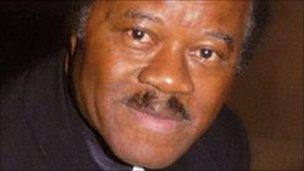 Two brothers have failed in their campaign to have the German doctor who killed their father struck off in his home country.
But the doctor's medical future still remains in doubt.
A BBC documentary has discovered that Dr Daniel Ubani has just faced a second "fitness to practise" hearing in Germany, and he is being allowed to continue to treat patients there.
The German Government department, which licenses him to practise medicine, has told the BBC it is still investigating whether he ever sat his state medical exam.
Dr Ubani was struck off the General Medical Council's UK register in June after giving patient David Gray, from Cambridgeshire, a lethal overdose of diamorphine on his first out-of-hours shift working for Take Care Now.
Volker Milk, head of health in the German town of Arnsberg in the Federal state of North Rhine Westphalia, said there were no grounds to withdraw his licence in Germany.
"We didn't decide that he is a good doctor, but we decided that he isn't a danger for the public and therefore can continue working in Germany.
"There are no comparable incidents and therefore there was no reason for us to withdraw his licence."
The validity of Dr Ubani's qualifications are questioned in a documentary "Killer on Call" on BBC1 East at 1930 GMT.
The programme talked to two women who took legal action against Dr Ubani following botched facelift procedures. He has denied liability.
Dr Ubani declined to speak to the BBC about his qualifications or answer questions regarding complaints about his cosmetic operations.
Widow Christa Boettcher settled for 13,000 euros (£11,023) after her facelift procedure went wrong.
She told the programme: "I looked like a boxer. I also thought I would lose my sight. I was really afraid to lose my eyes. They looked terrible.
"In my opinion Dr Ubani is a great danger for patients in Germany because he continues operating on people and endangers patients."
However, in recent days the website for Dr Ubani's cosmetic surgery clinic has been taken down.
The cosmetic surgery sign outside his practice in Witten has also been removed, and sections of his name board relating to cosmetic surgery have been covered over.
But the BBC has found that the doctor appears to still be taking general practice patients.
The programme also reveals that another German locum doctor, Dr Connie Camp, who made a similar mistake with diamorphine, has been allowed to carrying on flying from Germany to the UK to treat patients out of hours.
In that case, which happened more than two years ago, the overdose of the painkiller was at a lower level than Dr Ubani's overdose.
Dr Camp's patient nearly died and had to be resuscitated in an Ipswich hospital.
She has described the error as a "medical blip" and has apologised to the family involved. She did not face any GMC sanctions.
Dr Camp has been re-trained by Harmoni, which took over Take Care Now, and has numerous out-of-hours contracts across the country.
She declined to talk to the BBC "for personal reasons".
But Andrew Gardner, chief executive of Harmoni, defended the decision to carry on employing her.
"One of our assessments if someone does make a mistake, do they learn from it, and are they someone who is not going to do that again?
"This doctor is clinically competent, made a mistake, acknowledged that mistake and we are confident that she provides a good service in Suffolk," he said.
Two other German locums who made drug mistakes in Suffolk have been prevented from working in out-of-hours positions.
In one case earlier this year, a serious mistake was spotted by a pharmacist before the drug was handed to the patient. The German GP's contract was ended.
The programme found that 18 German-trained doctors have been struck off the GMC register in the UK in the past five years, although they only make up a small proportion of doctors dismissed.
David Gray's sons, Dr Stuart Gray from Kidderminster, Worcestershire, and Rory Gray, are campaigning for European regulations to be changed to stop doctors struck off in the UK from being allowed to carrying on treating patients in other European countries.
The brothers were arrested in Bavaria in June after confronting Dr Ubani at a medical conference where he was giving a speech on anti-aging techniques. They could face criminal charges in Germany.
Dr Ubani, 68, was found guilty of "gross negligence manslaughter" by the GMC after injecting kidney patient David Gray with 10 times the safe dose of diamorphine on his first shift in the UK.
Cambridgeshire Police had wanted to prosecute him for manslaughter, but Dr Ubani avoided extradition to the UK after German prosecutors started their own proceedings and convicted him by letter of death by negligence. He received a suspended sentence.
Rory Gray said: "It is very, very sinister. These people in Arnsberg must have a reason.
"They have chosen to take a risk with lives of the innocent German population.
"I don't understand, I don't see how it is possible considering he worked for one afternoon in Britain and he left a trail of destruction."
His brother, Dr Gray, said: "Being a doctor myself, and listening to the evidence at the inquest, it is clear he is grossly incompetent and not fit to carry out his duties as a doctor and that has been supported by the GMC, the coroner called him incompetent and the German doctors' chamber.
"How can some councillors decide behind closed doors he is fit to practise?"
David Gray's partner, Lynda Bubb, described the last few years as "a living nightmare" but said the sons' campaigning would have made their father proud.
Dr Gray added: "All we wanted was answers to what happened to my father and see if mistakes were made that could be prevented in the future. It snowballed from there.
"Definitely changes have been made but there is an awful lot to do. Has it been worth it? Well, Rory and I think it has."
"Killer On Call" can be seen on BBC1 East on 10 December at 1930 GMT.
Related Internet Links
The BBC is not responsible for the content of external sites.