Spain-death father 'tried to hypnotise rape victim'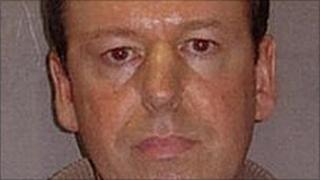 A man whose partner is accused of murdering their two children in Spain tried to hypnotise a young girl before sexually abusing her, a court heard.
At Manchester Crown Court, Martin Smith, 45, from North Shields, denies rape, attempted rape, indecency with a child and indecent assault.
His young son and daughter were found dead in a Spanish hotel in May.
Their mother, Lianne Smith, 43, from Cumbria, is being held by Spanish police on suspicion of murder.
The court heard Mr Smith would attempt to hypnotise, hit and bully his victim, with whom he had regular contact, to ensure she complied.
He is charged with 11 specimen charges of rape, attempted rape, indecency with a child and indecent assault, spanning nine years from May 1995 to May 2004.
Before the case began, trial judge, Mr Justice Stephen Irwin, told the jury that Mr Smith was not implicated in the deaths of his children.
'Bullying manner'
Hilary Manley, prosecuting, said: "This case concerns, what the prosecution say, was systematic and prolonged sexual abuse by this defendant over a period of about a decade.
"A course of conduct by this defendant which developed over the years into increasingly sexual assaults on her."
It is claimed the abuse began with forcing the girl to touch him intimately and Smith touching her. On occasion he would turn violent, act in a "domineering and bullying manner" and even use hypnotism in an effort to bend her to his will, the jury was told.
Ms Manley added: "He would attempt to hypnotise her, although she would simply pretend to be under the influence of hypnotism."
Eventually he would stop trying to hypnotise the girl and simply went on to rape her repeatedly from the age of 13 and she would "comply with resignation", it is alleged.
In 2007 his alleged victim felt "sufficiently strong" to report the abuse to police and he was arrested in November of that year.
He "emphatically denied" all the allegations and was bailed, and went to Spain with his family.
After he was extradited, his partner is then alleged to have murdered the couple's children, Rebecca, five, and Daniel, 11 months.
"We are not asking you to infer anything from the fact that the defendant left this country for Spain," Ms Manley added.
The trial was adjourned until Tuesday.