Lib Dem MP Andrew George to vote against fee rise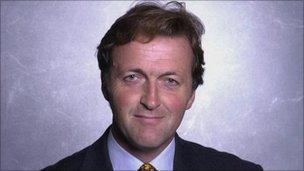 A Liberal Democrat MP from Cornwall will rebel against his party by voting against plans for a rise in tuition fees.
The Lib Dems had signed a pre-election pledge to vote against the increase, but after forming a coalition with the Conservatives the policy changed.
However St Ives MP Andrew George said backing an increase in student fees was "not a compromise he could accept".
His decision was announced as protests took place across Devon and Cornwall.
Students demonstrated in Falmouth and more than 100 students took over part of a campus building at the University of Exeter.
However a two-week sit-in by students at the University of Plymouth ended earlier.
Students across England have held protests against cuts in education and tuition fee increases.
MPs are due to vote on Thursday on the coalition plan which could see tuition fees rising to as much as £9,000.
Despite the planned increase, universities minister David Willetts has said thousands of students from poorer backgrounds would be better off because they could have their tuition fees paid for two years from a new government fund.
It is not yet known how many Lib Dem MPs will abstain or vote against the proposed increase, but Business Secretary Vince Cable has already said he will back it - saying he had a "duty" to vote for his own policy.
Mr George said the business secretary should be respected for putting his attempt to maintain party unity above his own public image.
In a statement he said: "Some of the compromises we have been asked to agree have been more than I could accept, and so I have both voted against the government and proposed alternatives.
"On this, I will support the more acceptable loan and repayment package proposed.
"But I will vote against any lifting of the fee cap."
Related Internet Links
The BBC is not responsible for the content of external sites.