Twenty arrests over suspected £50m beer and wine fraud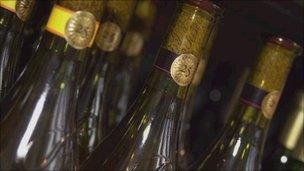 Twenty men have been arrested by customs officers investigating a suspected multi-million pound fraud.
HM Revenue and Customs (HMRC) criminal investigators carried out raids on 12 commercial and 17 domestic properties across the South East and the Midlands.
It followed a probe into a suspected £50m excise duty and VAT fraud.
Spokesman Bob Gaiger said it was thought beer and wine bound for EU markets had been smuggled into the UK without appropriate tax payments.
Searches were also being carried out in Germany.
Mr Gaiger said: "HMRC criminal investigators have uncovered a suspected multi-million pound excise duty and VAT fraud.
"Over 200 HMRC officers, supported by the police, took part in today's operation. The operation spanned a number of counties and led to the arrest of 20 people."
All the men arrested were being interviewed by HMRC officers on Tuesday and investigations were continuing, Mr Gaiger added.
He said the fraud was linked to the abuse of the international bonded warehouse system.
Bonded warehousing is a storage arrangement where goods - such as alcohol - are stored, and payment of import duties or VAT is suspended or delayed until the items are imported.
Five men were arrested in Essex and nine were arrested in London. Two men were arrested in Brighton and Hove. And four more arrests were made in raids in Surrey, Berkshire, Hertfordshire, and Birmingham.
Related Internet Links
The BBC is not responsible for the content of external sites.