Pc 'could not avoid' Kent A21 death crash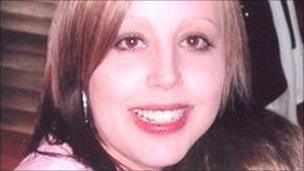 A police officer has told a court there was nothing he could have done to avoid a crash which killed a mother-of-three on the A21 in Kent.
Pc Nigel Brown, 47, denies causing death by dangerous driving.
Giving evidence, he said he thought Felicity Austin's car was in the middle of the road as if she was trying to overtake the car in front in May 2009.
Prosecutors at Maidstone Crown Court said his car was straddling both lanes and Miss Austin was within her lane.
The Metropolitan Police officer was part of a surveillance team which had followed a target from London to Kent. The officers were in two cars.
His unmarked car had blue lights in its front grills, the ability to flash its headlights alternately, and a siren.
Pc Brown said he overtook some drivers but only after making sure they were aware of him, and kept back from his colleague, described as Alpha One.
He said: "I wanted to allow as much space between myself and Alpha One as I could, ensuring it was possible to see two sets of warning lights instead of just one, so they could be aware that there were two police vehicles coming through."
Pc Brown said he was constantly assessing vehicles on his nearside and offside and sped up or slowed down depending on other traffic.
Jurors heard he had received numerous driving courses in the police, and had 15 years' experience in driving high-performance cars for surveillance purposes.
Describing the crash, he said: "Suddenly as quickly as I could blink, Miss Austin's car was driving along the road, directly at me, as if she was trying to overtake the car that was to my offside.
"I don't think I had time to steer at all or brake. It was that quick."
Jurors heard he was driving at 55mph when his Skoda Octavia crashed into Miss Austin's Renault Megane near Tonbridge.
Miss Austin, 29, was on her way home to Hadlow and driving at 14mph.
She was pronounced dead at the scene. Pc Brown suffered a broken arm.
When asked if other drivers nearby had noticed him, Pc Brown said: "I'm satisfied that they had seen me. Obviously in Miss Austin's case, I was wrong."
He added: "I don't think there's anything else I could have done.
"Numerous times I think that if things could have happened in that journey that could have put me just a few seconds behind, then the accident would never have occurred."
Related Internet Links
The BBC is not responsible for the content of external sites.