Essex and Kent police operation nets dozens of suspects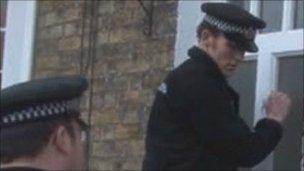 Police have arrested nearly 100 people in raids across Essex and Kent.
In a joint operation, officers targeted people suspected to be involved mainly in theft and drug-related offences in the two counties.
Police are questioning suspects after executing warrants and mounting planned operations around the counties.
A spokesman said: "We've taken a number of criminals off the streets of both counties so they can't ruin the festive period with their criminal behaviour."
The operation was the biggest day of action so far mounted by the new Kent and Essex Serious Crime Directorate.
By 1600 GMT, 97 people had been arrested in connection with crimes ranging from burglary, theft, drug possession and supply and illegal entry to the UK.
Cash, antiques and other stolen goods have also been seized.
The spokesman said: "We are sending out a clear message that we will not tolerate criminals causing harm in our communities. We are listening and responding to what local residents are telling us concerns them the most.
"The message we are sending out today is don't commit crime in Kent and Essex because we will catch you and bring you to justice."
Both forces have been keeping the public updated on their progress via their Twitter accounts, which they have also used to offer advice on crime prevention and reduction.
Assistant Chief Constable Alan Pughsley, head of the serious crime directorate, said: "The aims today are to arrest those offenders who are causing a significant concern, not only today in the lead-up to Christmas, when criminality, theft and handling increases, but also on-going."
Related Internet Links
The BBC is not responsible for the content of external sites.