Soldier honoured for child rescue in Afghanistan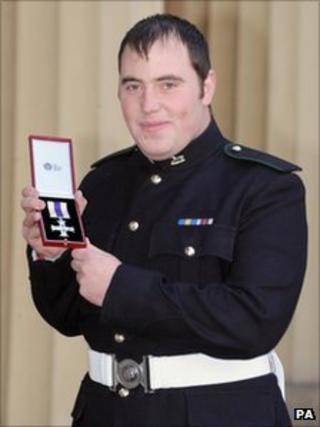 A soldier who saved the life of a wounded child in Afghanistan has been honoured by Buckingham Palace.
L/Cpl Andrew Wardle, of 2nd Battalion the Yorkshire Regiment, ran through enemy fire to rescue the boy, five, who had been caught in the crossfire.
The 22-year-old soldier of Hetton-le-Hole, Sunderland, received his Military Cross from the Prince of Wales.
Yorkshire Regiment soldier Sgt John Swithenbank, from Redcar, was awarded the Queen's Gallantry Medal.
He helped save the life of one of the Afghan soldiers he was training in Sangin.
L/Cpl Wardle ran 50m (160ft) across open ground to rescue the boy, who had been shot in the back after he wandered into the middle of a firefight between British and Afghan troops and insurgents, in Helmand.
His citation read: "He showed selfless courage and compassion to rescue, and care for a wounded Afghan child."
After the presentation, he said: "The prince said how brave I was and said he could never have done what I did."
Speaking about the incident in January, the soldier said: "When I saw he was clearly getting shot at, the only thing in my mind was that I knew I could help him so I ran out and got him.
"Luckily I didn't get injured myself and I managed to get him back to safety.
"I didn't even think about it after I'd done it.
"This happened halfway through a patrol and you've got to think about getting back, so nothing stays on your mind."
The soldier still does not know the boy's name or if he survived his injuries.
He added: "He was stable when he left my position but I don't know what happened to him when he reached Bastion."
Sgt John Swithenbank, 32, was decorated for going to the aid of an Afghan soldier who had stepped on an improvised explosive device (IED) in Sangin last autumn.
The serviceman, who risked setting off more explosions to go to the aid of the foreign soldier, said after the ceremony: "He lost both his legs and an arm in the blast.
"The explosion had uncovered other devices, but I quickly concluded I could take the risk and go and help him as he was in a bad way."