The lies of a German doctor who killed a patient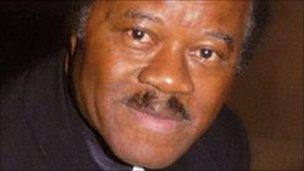 Since the day he accidentally killed a patient in Cambridgeshire with a lethal dose of Diamorphine, Dr Daniel Ubani has fought to save his career and his reputation.
He escaped British justice and uses lawyers and the police when he is challenged about what he did.
He has taken the sons of his victim to court when they sought answers, and he has successfully gagged the German media.
It is difficult to detect a conscience in a man who changes his story about what happened when he killed David Gray in February 2008 while on his first out of hours shift.
Dr Ubani lies about his qualifications. There is no hint of remorse.
When Rory and Stuart Gray attended a medical conference in Bavaria in the hope of asking Dr Ubani for an explanation about their father's death, he calmly dismissed them. He told them all doctors made mistakes.
The confrontation ended in the brothers' arrest on allegations of verbal assault. Another delegate accused the Grays of "killing the conference".
I have spent time in Germany investigating Dr Ubani. My first trip landed me with a threat of legal action.
I had entered Dr Ubani's driveway just once to request an interview.
Police officers arrived and ordered me to pay an immediate fine of approximately £750 (900 euros). I refused and the officers left.
The police officers gave Dr Ubani my home address. Within days I received notice of legal action alleging trespass.
Dr Ubani falsely claimed that I had entered his property four times. The BBC was also taken to court. Dr Ubani lost the case.
In a separate action he failed to win a gagging order against the British media.
So what have we found out about the German doctor who has devastated the lives of the Gray family?
We discovered there are doubts over whether he ever sat the state medical examination.
Despite being struck off the medical register in the UK, Dr Ubani's employer, the regional government at Arnsberg, has allowed him to continue practising in Germany.
German police documents show that neither the university where Dr Ubani claims to have studied nor the state examination office has a record of him ever having sat the state medical examination.
The Arnsberg Government told the BBC: "As far as the doubts from your side about whether or not the doctor has ever sat a state exam are concerned, I can currently only inform you, that the investigation into this has not yet been concluded."
And so, two-and-a-half years after the death of David Gray, Dr Ubani's employer remains unclear over whether he is qualified as a doctor.
When the Doctors' Chamber, the GMC equivalent in Germany, attempted to set a competency test for Dr Ubani they were stopped after Dr Ubani blocked them with court action.
Dr Ubani has claimed to have trained and worked as a hospital consultant in Germany. The Doctors' Chamber confirms that he has never been a consultant.
Dr Ubani's lies don't end there.
In a court statement, Dr Ubani attempted to minimise David Gray's death by claiming that he died during an operation.
Dr Ubani supplied a false reference to work in the UK. It was written by a fellow doctor in Dr Ubani's home town.
Under police interview the doctor later withdrew the reference admitting that it was untrue.
And Dr Ubani's trail of devastation extends to Germany where we know of at least six patients harmed by him.
Helga Freitag and Christa Boettcher are two of them. They sued and settled for a total of £23,000 (28,400 euros) after Dr Ubani botched their facelift operations.
He did not admit liability in either case. Christa told the BBC: "In my opinion Dr Ubani is a great danger for patients in Germany because he continues operating on people and endangers patients".
Helga said: "They should close down his clinic immediately… there should be a sign on his door: don't enter."
When Rory and Stuart Gray were taken to court in Germany following the confrontation at the medical conference, the judge told them they were not permitted to call Dr Ubani an "animal".
But he said that they could continue calling him a killer and a charlatan. They were statements of fact.
"Killer On Call" can be seen on BBC1 East on 10 December at 1930 GMT.
Related Internet Links
The BBC is not responsible for the content of external sites.