TV 'psychic' to UK's most wanted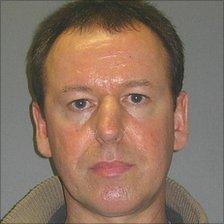 Convicted child rapist Martin Smith appeared on television three years ago as a guest on the Living satellite channel's popular Most Haunted programme.
Styling himself as a medium, he was invited to go ghost-hunting and investigate paranormal occurrences at Brougham Hall near Penrith in 2007.
But by the end of that year he was on the run soon to be one of the UK's most wanted men, setting off a chain of events which would lead to the tragic deaths of his two young children.
In December 2007, the 45-year-old and his partner Lianne, who were living in Carlisle, left the UK for Spain after he was accused of child abuse.
The couple who have been together for 18 years, never married although they are engaged and share a surname.
They took their young daughter Rebecca with them and while in Spain had another child Daniel.
After an international hunt, Spanish Police finally caught up with Smith in Barcelona and he was extradited back to the UK in the spring of 2010.
But within days of his return, Rebecca, five, and Daniel, 11 months, were found dead at a hotel in the Lloret de Mar, Costa Brava.
Ms Smith, 43, is in custody pending trial over the deaths. Post-mortem tests are believed to have revealed the children were asphyxiated.
She told the court during her partner's trial that she had left the UK because she was worried the authorities would take her daughter from her.
Cumbria County Council confirmed Ms Smith had worked in its children's department, responsible for out-of-school activities but did not directly work with children.
Rebecca was referred by police to its social care team following inquiries into Mr Smith.
Child protection procedures were put in place before the allegations were passed to social services in Staffordshire, where Ms Smith and her daughter moved in October 2007. They were reported missing two months later.
Mr Smith was arrested on 7 May and was extradited from Spain over 13 charges of sexual offences against a girl aged between seven and 18, and for failing to answer police bail.
A Staffordshire Police spokesman said that as soon as officers became aware of his arrest, they instigated welfare checks, through Spanish authorities, on his partner and daughter.
"We were informed that they were safe and well.
"Lianne declined all offers of police help and support and stated her intention to remain in Spain - as was her legal right - and not to return to the UK," he said.
"At this point we also became aware of the existence of Rebecca's younger brother."
The bodies of Smith's children were found in the four-star Hotel Miramar in the Costa Brava, on 18 May, 11 days after his arrest.
Cumbria Police and Staffordshire Police have referred the case to the Independent Police Complaints Commission (IPCC).
Related Internet Links
The BBC is not responsible for the content of external sites.