South West cashing in on 'pink pound'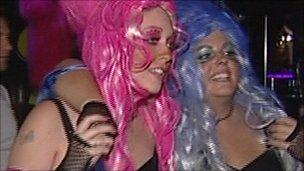 Owners of a Cornwall bed and breakfast turned away a gay couple, but other parts of the South West are opening their arms to the so-called "pink pound".
Martyn Hall and civil partner Steven Preddy, from Bristol, tried to book a double room at the Chymorvah Private Hotel in Marazion near Penzance in 2008, but were refused.
They say it was an act of direct discrimination against them and have been claiming up to £5,000 in damages at Bristol County Court in a case which has been deferred until after Christmas.
Peter and Hazelmary Bull, who run the Chymorvah, deny the claim brought under equality laws.
The Bulls, who are Christians, say they have a policy of banning unmarried couples from sharing a bed.
But other resorts in the South West are actively targeting gay visitors.
Torbay, widely known as a genteel Devon resort with its palm-fringed promenades and sandy coves, held its second gay pride festival in June, with about 2,200 people attending over a weekend.
Organisers estimate that about 1,000 of those attending Torbay Pride were from outside the area and were spending about £300 each on accommodation, taxis, local attractions and in the restaurants.
Spokesman Matt Newbury said: "The festivals have been hugely successful.
"We want to grow them into the largest pride festival of its kind outside a major city."
He said the festivals, dubbed Torgay by fans, fostered "communication, understanding and tolerance".
"It's about celebrating the freedom we have in this country when so many countries do not have that sort of freedom," he said.
"It's also about having a party and bringing a bit of money into the area.
"It's like a triple whammy."
He said Torbay Pride was held in June to help hoteliers in a relatively quiet time of the year.
"A lot of gay people tend to have quite large disposable incomes.
"The fact that most do not have children means they can also travel outside the main holiday times."
Elizabeth Pippett, of the English Riviera Tourism Company, said holding Torbay Pride in June also avoided clashes with traditional seaside events in the high season.
She said: "It is a fantastic event.
"We pride ourselves on being a totally inclusive, progressive resort."
A study by Visit Britain in 2006 suggested that gay tourism was worth up to £3bn a year to the British economy.
Malcolm Bell, head of tourism at Visit Cornwall, said that gay tourism was a "very valuable sector", especially for boutique hotels and high-end restaurants in Cornwall.
"Tourism is about hospitality, inclusive of everyone. It's not about being selective," he said.
Related Internet Links
The BBC is not responsible for the content of external sites.