Wedding row man jailed for murder of ex-fiance's mother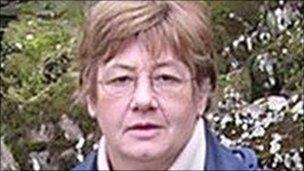 A man who stabbed his prospective mother-in-law more than 60 times after her daughter called off their wedding has been jailed for life.
Robert Edwards, 43, of Tipton, West Midlands, killed Sylvia Smith, 59, at her Birmingham home four days after his fiance cancelled their nuptials.
Edwards, who denied her murder, must serve at least 27 years in prison.
The judge at Birmingham Crown Court described the killing on 7 May as "planned and premeditated".
Lorry driver Edwards punched and stamped on Mrs Smith and left her die in a pool of blood at her home in Mere Road, Erdington.
He had taken a knife and fresh clothes to the house, the court was told.
Edwards ensured the tachograph in his lorry was not working so his movements would not be recorded.
Mr Justice Supperstone said: "I am satisfied to the criminal standard of proof that on the morning of May 7 you took a knife with you to Mrs Smith's home, intending to commit an offence and that you used that knife in committing the murder.
"You made a brutal and very sustained attack on a 59-year-old defenceless woman in her own home."
During the trial, the jury was told that Mrs Smith's daughter Samantha had been in a relationship with Edwards, of Monins Avenue, since 2000 after they met at the Longbridge car plant.
But the relationship eventually broke down and 36-year-old Miss Smith left Edwards in April to move back to her mother's home.
She later cancelled their wedding, which had been planned for August, after Edwards threatened to commit suicide, the court heard.
Sentencing Edwards, the judge said: "Only you will know what led you to do this to a person who had displayed kindness and goodwill to you.
"The pain and suffering that you have caused her daughter and her family will plainly be long-lasting and with them for the remainder of their lives."
Following his conviction on Wednesday, Mrs Smith's family said it was justice for her but not a time for celebration.
Related Internet Links
The BBC is not responsible for the content of external sites.