South of England ranks third for new 'big four' stores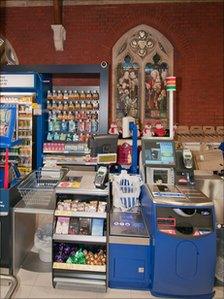 Central southern England had the third highest number of applications approved from the 'big four' supermarkets in the past two years, the BBC has found.
Councils have given 53 planning and advertising proposals from Tesco, Asda, Sainsbury's and Morrisons the go-ahead during the two years to 1 November.
Tesco had the most approved with 35, Sainsbury's had 13, Asda had three and Morrisons had two.
London had the highest number approved in the UK with 110.
The research covers the BBC South transmission area, which covers Hampshire and Isle of Wight, east Dorset, east Wiltshire, Oxfordshire, west Berkshire, west Surrey, West Sussex, Brighton and central Buckinghamshire.
The BBC asked each local authority to reveal how many planning and advertising applications from the 'big four' supermarkets were approved over the two years from November 2008 to November 2010.
In the South, two further applications have been approved by councillors where the supermarket chain involved was unknown.
And there are 25 applications still pending across the region.
Sainsbury's has 13 applications still waiting for a decision, Tesco has six, Morrisons has four and Asda two.
One of the successful applications saw Tesco open a new Express store in a former Methodist church in Bournemouth, Dorset.
It retained the stained glass windows while funds from the sale went back into the local church group.
In the region about 10% of the population work in retail, with a further 12% employed in support sectors like wholesale, transport and distribution, figures from the South East England Councils showed.
But not everyone has welcomed the new stores.
Tony Kippenberger has been fighting plans for a new Sainsbury's in Bishop's Waltham in Hampshire.
He said: "We are a market town of 6,000 residents with 33 supermarkets within 10 miles, nine of which are Sainsbury's.
"It will kill our high street, the likes of the butcher, fishmonger and baker."
Sainsbury's said it was "committed" to supporting local retailers and is set to provide 300 jobs.
Others in the industry believe many businesses welcome the spread of the major supermarket companies.
Ginette Gower, from Thames Valley Chamber of Commerce, said: "The majority of businesses see them as a good thing bringing jobs to an area.
"There are pockets in smaller towns where shops have closed down but I think that is more of an indication of the recession rather than the supermarkets."
She believes the region has one of the highest amounts of approved applications due its population concentration.
"It would seem obvious where there is more people there is more demand for supermarkets, and the South East has a very high concentration of people," she added.
Jeff Bray, senior lecturer in retail management at Bournemouth University, also pointed to higher income levels in the region as a factor for attracting retailers.
"With a greater proportion of working couples in the South, demand for convenience retail formats, such as Tesco Express, is also likely to be higher," he said.
"With new stores being built year after year it would be easy to imagine that we could end up with too many food shops.
"However we have seen small independent food stores replaced with cafes and nail bars... and since the 1980s not insignificant rises in our population have contributed to increased demand for such stores."
Councillor Paul Carter, chairman of South East England Councils, believes small businesses will make a return.
"High streets have become boring. You go down one in France and see the difference, that is what we have to get back to," he said.
"But commercial rates are falling like a stone so the opportunity to rent retail property for the best rates in 20 to 25 years is going to present the chance to take on the big supermarkets."
Tesco said it always put customers first and had invested in the UK despite the recession, creating tens of thousands of jobs.
"Most of our new store applications are not for large supermarkets but for small, local convenience stores, the likes of which millions of customers have relied on to get food in the bad weather," it added.
Related Internet Links
The BBC is not responsible for the content of external sites.