Fourteen supermarkets approved on Tyneside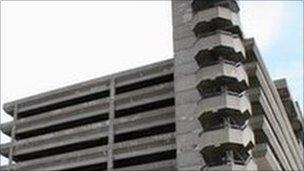 Tyneside planners approved at least 14 new stores for the UK's 'big four' supermarkets in the past two years, research by the BBC has found.
In the two years to November, Tesco won approval for five stores, Asda four, Sainsbury's three and Morrisons two.
The BBC research into supermarket expansion shows planners approved at least 577 stores in the UK.
This year Gateshead Council approved a £150m scheme to revamp the Trinity Square car park site.
This was one of the highest offers in the UK in the past two years, the research found.
The car park featured in the 1971 Michael Caine film Get Carter, but has now been demolished.
As part of the scheme, Tesco has agreed to build 45 shops and offices.
The deal, aimed at breathing new life into Gateshead town centre, also includes a new town square, underground parking and a student village for more than 900 students.
Gateshead Council said the redevelopment would bring much-needed jobs to the borough and help regenerate the town.
In a statement, the council said: "Tesco's development arm Spenhill will turn Trinity Square into a vibrant centre which will meet the expectations of residents and act as a catalyst for bringing further regeneration into the town centre.
"The site represents around 20% of Gateshead centre.
"Over 1,000 new jobs will be created by the development, including those in construction.
"The new Tesco will also be a regeneration partnership store, which focuses on the long-term unemployed, those seeking flexible local employment and school-leavers."
Northumberland Council also signed a £60,000 deal with Tesco when it gave permission for a new Tesco in Berwick in Northumberland.
The money is being spent on town centre improvements.
Related Internet Links
The BBC is not responsible for the content of external sites.