Child detained at immigration centre 'felt punished'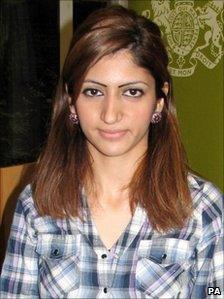 A woman who was held at an immigration centre as a 14-year-old has urged the deputy prime minister to help child detainees over coming months.
Lorin Sulaimen, 20, spent 10 days in Tinsley House near Gatwick Airport in West Sussex after fleeing Syria with her mother and sister.
She said: "It was just awful. Being locked up I felt like a prisoner."
Deputy Prime Minister Nick Clegg said while the practice would still continue for adult asylum seekers their children would be assigned minders instead.
Ms Sulaimen, who now lives in Ealing, West London, left Syria with her Kurdish family because they feared they would be persecuted for her father's political activities.
She said: "At 14 I should have been at school worrying about my homework, instead I was locked up.
"At 14 I should have been sleeping like a child, but instead every half hour an immigration officer would shine a light in my eyes just to check whether I was still alive or if I had committed suicide."
She added: "Mr Clegg, I would like to thank you for your support for ending child detention and delivering upon your commitments.
"I do worry about the children who will be kept in Tinsley House in the interim period and I hope you will do everything you can to ensure they have the maximum freedom of movement and that they have social workers available to make sure they are treated properly.
"As someone who was detained in Tinsley House myself I know it is not the ideal environment for children."
Her family were granted leave to remain in the UK six weeks after they were held at Tinsley House.
Ms Sulaimen is now studying to law at the University of Westminster.
Related Internet Links
The BBC is not responsible for the content of external sites.