Compulsory police retirement agreed for West Midlands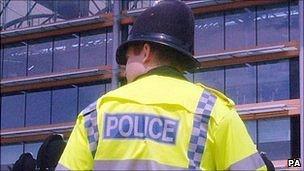 West Midlands Police Authority has agreed to introduce compulsory retirement for police officers who have served for more than 30 years.
The decision affects 630 officers who will be asked to retire within the next three years.
The authority's chairman Bishop Derek Webley said the decision was taken with "great reluctance" in light of "worse than expected" police budget cuts.
He said a reduction in police would not automatically lead to a rise in crime.
"The current financial position requires us to take this step, in the interest of the efficiency and effectiveness of the force.
"We and the force will take great care to ensure that the reduction in operational capability is minimised. We are reassured that the force will put in place appropriate safeguards for succession and passing on of key skills and knowledge."
The settlement for 2011/2012 requires the force to save £40m with a further £38m savings to be made in 2012/2013.
Related Internet Links
The BBC is not responsible for the content of external sites.