Christmas drink-driving increases in Thames Valley area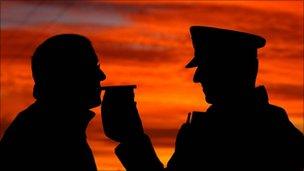 One hundred and seventeen people have been arrested across the Thames Valley area for drinking and driving during a December police crackdown.
The figures show a 21% increase on the same period last year.
The arrests are part of a campaign to reduce drinking and driving throughout the Christmas and New Year period.
Insp Colin Clark warned that motorists under the influence of drink or drugs could face six months in jail as well as a 12-month driving ban.
The highest alcohol reading recorded during the campaign was nearly four times the legal limit - a 49-year-old woman, stopped in Earley, near Reading.
Out of the 117 arrests, 69 people were charged, 30 people were bailed and 18 people were released without charge.
Insp Clark, of Thames Valley Police, said that one of the problems was that people drove in the morning after a big night out.
"If you are going out and know you will be drinking, organise alternative transport or a designated driver to ensure everyone is able to enjoy the festive period safely.
"We would also like to make it clear that having an extra drink at the pub at lunch can still take you over the limit and have an effect on the driving of even the most experienced drivers."
Related Internet Links
The BBC is not responsible for the content of external sites.