Former miscarriage of justice victim accused of rape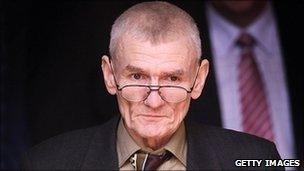 A County Durham man who spent 27 years in jail for a crime he did not commit is to spend another Christmas behind bars after being accused of rape.
Sean Hodgson was convicted in 1982 of the rape and murder of Teresa De Simone in Hampshire but this was quashed in 2009 when new evidence came to light.
The 59-year-old, of Tow Law, is charged with rape and sexual assault, allegedly relating to an incident in August.
He has been refused bail by a judge at Durham Crown Court.
A plea and direction hearing will be held in February.
Miss De Simone's body was found in her car at the rear of a pub in Southampton in 1979.
Mr Hodgson was convicted of her rape and murder, but a comprehensive forensic review in 2008 discovered that DNA evidence found at the scene did not match a sample given by him.
The Court of Appeal quashed his conviction and he was released.
Hampshire Police later exhumed the body of David Lace, who committed suicide at the age of 26, and the DNA was revealed to be his.
Related Internet Links
The BBC is not responsible for the content of external sites.