Cheshire council receives no supermarket applications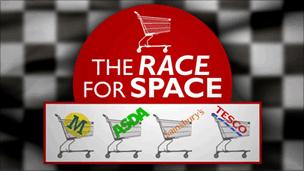 A Cheshire council has not had any plans submitted for supermarkets since March 2009 - despite north-west England receiving the second highest number of applications, the BBC has found.
The BBC contacted councils to find out how many Asda, Morrisons, Sainsbury's and Tesco shops were given permission in the two years from November 2008.
Cheshire West and Chester formed in March 2009 after local reorganisation.
In the North West, at least 63 stores were approved, with 10 more pending.
In the UK, at least 577 applications were successful. Tesco had 392, Sainsbury's 111, Morrisons 41, and Asda 33.
The figures were obtained by BBC researchers looking at the expansion of the so-called 'big four' supermarket chains. They include all types of new outlet, such as small high street stores.
A Cheshire West and Chester Council spokeswoman said: "Having been in existence for 20 months, Cheshire West and Chester Council is still a relatively new authority and as yet has received no planning applications for developments from the big supermarkets.
"We always seek to encourage new retail development within the borough but only if it is provided in a way that supports the vitality and vibrancy of our town centres.
"We continue to guide investment throughout the borough to optimise regenerative benefits. Food stores can be a force for good but we do need to consider how they may affect smaller businesses within the area."
The spokeswoman said the council had undergone a full retail study, analysing spending capacity and whether there was scope for more shops. The details are due to be published in the new year.
Colin Brew, manager of West Cheshire and North Wales Chamber of Commerce, said: "It may well be West Cheshire has what it needs and we are quite happy with that."
He said the number of smaller, independent shops, particularly in Chester, was a key factor in drawing people to the area.
Related Internet Links
The BBC is not responsible for the content of external sites.