Northern Rail staff to strike over bank holiday pay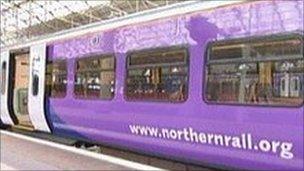 Workers at Northern Rail are to strike on 27 and 28 December in a row over bank holiday pay, it has been announced.
The Rail Maritime and Transport (RMT) union said about 1,000 members would take part after voting for industrial action.
It wants conductors to receive double pay for working on the bank holidays.
Northern Rail said it was disappointed by the strike. It said it would run a limited service on some routes.
The train operator serves many northern cities including Manchester, Liverpool, Preston, Leeds, Sheffield, York, Carlisle and Newcastle.
It said the pay for bank holidays had been agreed with the union several years ago, after conductors traded double pay for other benefits including increased salaries and extra annual leave.
Bob Crow, RMT general secretary, said: "The spirit of old Scrooge is alive and well on Northern Rail and our conductor members have shown in this ballot that they will not be treated as second-class citizens this Christmas.
"There is no agreement in place from Northern Rail for the additional public holidays on December 27 and 28 that everyone else will be benefiting from this year.
"You only have to look at the sporting calendar to see that these days are full-on public holidays everywhere other than in the minds of the senior management at Northern Rail."
He said Northern Rail had made £85m in profits in the past four years.
Ian Bevan, managing director of Northern Rail, said: "We are very disappointed that the RMT is going ahead with strike action when only 361 of 976 conductors voted for a strike.
"We have said all along that we will honour the existing agreements that we have with the trade union, and we are always willing to hold further talks.
"Our priority now is to ensure that our passengers have all the information they need to make an informed decision about their travel plans on 27 and 28 December."
Related Internet Links
The BBC is not responsible for the content of external sites.