Drains warning for festive cooks in the North East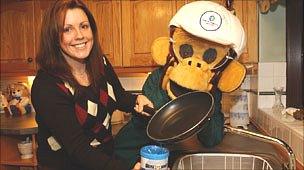 A cartoon character is being used to highlight the damage caused by turkey fat when it solidifies in pipes.
"Chips" is Northumbrian Water's "grease monkey", whose message to festive cooks is dispose of it correctly rather than pouring it down the sink.
During the festive period, the company has to deal with an increase in sewer blockages, many caused by grease, fat, or oil solidifying in the pipes.
Cooks should pour fat into a container and then discard it in a bin when cool.
The company said flushing hot soapy water down the sink will not stop grease blocking the sewer as the surrounding ground keeps the pipe cool and causes it to sets.
Detergents that claim to dissolve grease may pass it down the pipe, but it can still settle out elsewhere in the sewer network.
A spokesman added: "Cleaning grease at just one large sewage treatment works costs around £50,000 a year, and Northumbrian Water has more than 435 sewage treatment works and 9,361 miles (15,500 km) of sewers to maintain.
"Most of this expense could be avoided if customers took simple steps to dispose of grease correctly."
Related Internet Links
The BBC is not responsible for the content of external sites.