Woman, 84, killed in Crewe bungalow explosion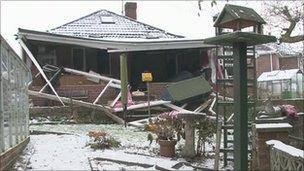 A woman has died in an explosion at a bungalow in Crewe.
Two women, aged 84, and 47, were at the rear of a property in Salander Crescent when it is thought the boiler exploded.
The 84-year-old died at the scene. The second woman, who is believed to be a friend, was taken to hospital with non-life threatening injuries.
Cheshire police said they were treating it as an "unfortunate accident" and were trying to establish the cause of Monday's blast.
No other properties were affected.
Police said the bungalow had been empty for about a month but had been visited earlier in the day by another family friend, who they urgently wanted to speak to.
They said there was no gas connected to the property but they thought the source of the blast was a solid fuel back boiler.
A force spokesman said: "We are currently trying to establish what has occurred. It doesn't appear to be a criminal act.
"We are treating the matter purely as an unfortunate accident which may or may not be related to the adverse weather conditions we are currently experiencing," he added.
Neighbour David Ballard said: "We heard a tremendous explosion, obviously coming from next door and so we went upstairs to get a better view.
"We were amazed to find the explosion appeared to be through the chimney, with all the attendant smoke and upheaval so we knew something was seriously wrong."
Related Internet Links
The BBC is not responsible for the content of external sites.