No police charges over barrister Mark Saunders' death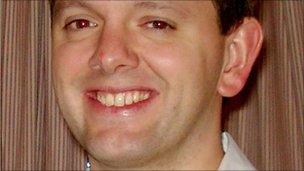 No police officers will be charged over the death of a barrister shot by police marksmen in west London, the Crown Prosecution Service (CPS) has said.
An inquest jury ruled Scotland Yard firearms officers acted lawfully when they killed Mark Saunders, 32, during an armed siege at his Chelsea home.
The CPS said it would review the inquest proceedings to see if significant new evidence emerged.
But after studying a full transcript, it said no action was needed.
Mr Saunders died in a hail of police bullets after a five-hour armed stand-off at his west London home on 6 May 2008.
The siege began after the high-flying divorce specialist fired shots from his home in Markham Square.
In October, a Westminster Coroner's Court jury found the actions of the officers were lawful, proportionate and reasonable.
"Following the verdict at the inquest into the death of Mark Saunders, I have been considering whether any significant new evidence arose which would be capable of affecting my original decision," said Sally Walsh, of the Crown Prosecution Service (CPS).
"Having considered a full transcript of the inquest hearing, and a report of the inquest submitted by the IPCC, I have concluded that my decision remains the same.
"There remains insufficient evidence to charge any officer in relation to the tragic death of Mark Saunders."
Prosecutors have also decided not to bring charges against more senior officers for negligence, misconduct or breaches of health and safety laws.
One CO19 officer, known only as Alpha Zulu 8 (AZ8), faces a police inquiry into claims he inserted song lyrics into his testimony.
The officer is accused of littering his testimony with song titles by acts such as Duran Duran and George Michael.
The Independent Police Complaints Commission (IPCC) launched a fresh investigation after senior officers referred the allegations to the watchdog.
The IPCC said the inquiry was "progressing well" and the findings will be made public "early next year".
Related Internet Links
The BBC is not responsible for the content of external sites.