Court injunction halts London Midland drivers strike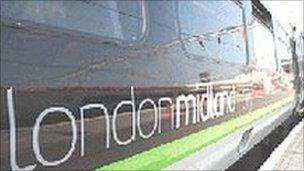 A 24-hour strike by drivers on London Midland train routes planned for Thursday has been suspended following an injunction by the High Court.
The court upheld the service operator's claims of irregularities in the strike ballot held by members of Aslef union.
The union called the 23 December strike over a pay and conditions row. Aslef leader Keith Norman said: "I am desperately disappointed".
London Midland said the union needed to be "realistic" in its demands.
The train firm operates through London, Hertfordshire, Buckinghamshire, Bedfordshire, Northamptonshire, Warwickshire, Staffordshire, Herefordshire, Worcestershire, the West Midlands, Shropshire, Cheshire and Merseyside.
London Midland obtained an injunction claiming there were irregularities in the strike ballot. The union said the issues involved three ballot papers.
A London Midland spokesman said the firm was "delighted" that customers would not face "unnecessary disruption at such an important time of the year".
He added that the firm remains "open to discussion and want to resolve this dispute with Aslef, but they have to be realistic".
Mr Norman said: "I am desperately disappointed. My private opinion of the legal system is best not quoted."
Aslef said it had been trying for three years to "harmonise the conditions" of 600 drivers from two firms - Central Trains and Silverlink - which merged to form London Midland.
The train company said former Central Trains drivers were being paid £1,200 more than their ex-Silverlink colleagues.
London Midland said the union turned down a deal which could have achieved equal terms and added that former Silverlink drivers "receive a more generous holiday entitlement".
Related Internet Links
The BBC is not responsible for the content of external sites.