Gang members jailed for £4m car thefts operation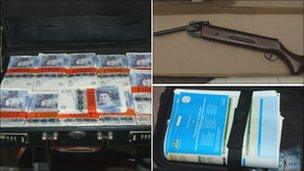 Members of a crime gang who stole £4m worth of high-value cars before selling them on to unsuspecting customers have been jailed.
The gang took the cars after stealing keys in burglaries in the Yorkshire and Humber region and the north of England.
At Leeds Crown Court 14 gang members admitted taking part in the "sophisticated" operation.
One was given a suspended sentence. The others were handed prison terms ranging from 18 months to seven years.
They admitted charges including conspiracy to burgle, conspiring to handle stolen goods and conspiring to defraud.
Some gang members would break into homes where high-value vehicles were parked on the driveways and steal the keys.
Others would produce high-quality cloned licence plates and documentation, which enabled the gang to sell the vehicles on.
The crimes sparked a joint investigation involving the West, South and North Yorkshire and Humberside police forces.
Most of the thefts took place in West, North and East Yorkshire between July and November 2009.
Officers later discovered that the gang was operating as far afield as the West Midlands, Lincolnshire, Lancashire and the north west of England.
In April 2010, 24 people were arrested in police raids on several properties, including a caravan park in Doncaster, South Yorkshire, where £100,000 in cash, rounds of ammunition and blank vehicles documents were found.
After the sentencing Det Ch Insp Lisa Atkinson, of West Yorkshire Police, said: "These sentences reflect the true scale of this highly-organised and highly-sophisticated criminal gang.
"In effect they were running an extremely lucrative business, selling on stolen vehicles to unsuspecting purchasers, who lost their money once the true identity of the cars was revealed."
Louise and Mark Newbould, of Holme on Spalding Moor, East Yorkshire, had their Range Rover Sport stolen by the gang.
The gang also tried to steal the couple's Mini Cooper and stole Mr Newbould's brother's Land Rover Discovery three weeks later.
Mrs Newbould said: "We just couldn't believe that somebody had been in our house, where we'd been asleep, and rifled through our things.
"It's just unbelievable that they have got away with so many vehicles in a relatively short space of time."
Mrs Newbould said the theft had been "really unsettling".
She said: "If the housing market had been better we'd be looking to move because we just can't settle.
"It does leave you on edge. Even when you are in the garden you are quite conscious of who's around you."
Related Internet Links
The BBC is not responsible for the content of external sites.