Donors sought as South West blood supplies fall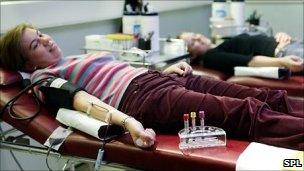 An urgent appeal has been made to people in Devon and Cornwall to donate blood.
South West spokeswoman Claire Dolling said the recent wintry weather had made the shortage more acute.
"Stocks dip throughout the year, but snow and ice has compounded the problem by making it difficult for staff and donors to attend sessions."
Many donor sessions in the South West have been cancelled, resulting in less blood being collected.
"We've got less than three days' supply left - probably about two-and-a-half," Ms Dolling said.
"The situation isn't critical and we don't want to cause alarm, but we're asking people to try their best to donate blood, without putting their safety at risk."
The blood service needs 7,000 litres a day for England and north Wales - especially O negative which can safely be given to patients with other blood types.
Although there are some medical restrictions, most people who are in good health and aged between 17 and 65 can become regular blood donors.
People willing to donate can find out about local donor sessions on the service's website.
Related Internet Links
The BBC is not responsible for the content of external sites.