Weather checks from Helvellyn on Christmas Day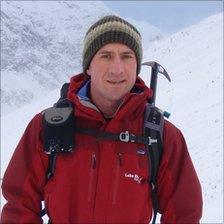 A daily climb of one of England's highest mountains will be going ahead as usual, even on Christmas Day.
Jason Taylor is one of two fell-top assessors who take turns to make a daily ascent of Helvellyn in Cumbria throughout the winter months.
Their reports on wind, snow and ice conditions form the basis of the Lake District National Park's Weatherline service.
Jon Bennett will make the 3,114ft (950m) climb on New Year's Day.
Working alternate weeks, each man's seven-day shift is almost the equivalent of reaching the summit of Everest.
In the first week at his post earlier in 2010, Jason Taylor had to battle one-metre snow drifts, avalanche risks and wind chill temperatures of -16.
Mr Taylor, a mountain guide who lives near Penrith, said: "It's all in a day's work."
The former world travel leader, who has experience in locations including Iran and India, said that while the Lake District mountains might look incredibly beautiful, conditions could be treacherous.
He added: "Hail or shine, people should always check Weatherline before heading out on the hills."
Related Internet Links
The BBC is not responsible for the content of external sites.