New Year Honours for astronaut, referee and beekeeper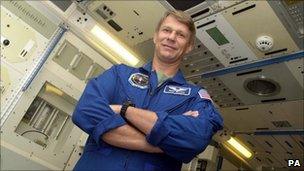 A Nasa astronaut, a beekeeper and a World Cup football referee are among those in England recognised in the New Year Honours list.
Piers Sellers, 55, who was born in East Sussex and has been on three space flights, becomes an OBE.
Howard Webb, 39, from Rotherham, South Yorkshire, has been appointed MBE after becoming the first Englishman to referee a World Cup final since 1974.
Many local heroes and community figures have also been recognised.
Beekeeper Anne Buckingham, from Farnham, was appointed MBE for services to beekeeping in Surrey, with the same honour going to Eric Sutherns, who is the bridge master of London's Tower Bridge.
Ray Edwards, from Sandhurst, Berkshire, who lost his legs and arms in 1987 due to blood poisoning after being treated for Hodgkin's lymphoma, has been appointed MBE.
Mr Edwards, who founded Limbcare, a charity that offers help to those who have lost limbs and to their families and partners, said: "I am very, very proud.
"A lot of people said with what I do with helping others it would be quite nice to have an honour, but just for me personally it's mind-blowing.
"I am just a normal bloke and decided to help."
In Suffolk, Dr Michael Field, a specialist in managing not-for profit organisations, has been appointed OBE.
Dr Field, a non-executive board member of the James Paget University Hospital NHS Foundation Trust and chair of Great Yarmouth College in Norfolk, said he was "absolutely thrilled".
"I've been associated with voluntary organisations for most of my career and I get a great deal of pleasure in witnessing the amazing work they undertake for our communities," he said.
Manchester-born rock climber Joe Brown, 80, who now lives in Llanberis, Snowdonia, nicknamed the "human fly" for his televised ascents of mountains, was appointed CBE.
He said: "Receiving this award is like being recognised for something I love doing everyday.
"I have never lacked enthusiasm and I surprise even myself at how much I love my sport."
There was a knighthood for Professor Keith Porter, consultant at the Royal Centre for Defence Medicine, at the newly-built Queen Elizabeth Hospital in Birmingham.
Prof Porter, from Alvechurch, Worcestershire, co-ordinates the care of injured British troops flown back from Afghanistan and was recognised for his services to the armed forces.
Mr Webb, a police sergeant from Rotherham who is on a break from South Yorkshire Police, refereed the World Cup final between Spain and Holland in South Africa in July, which Spain won 1-0.
He also officiated at the Champions League final between Inter Milan and Bayern Munich in May.
There was an OBE for rugby star Mike Catt, 39, who retired from playing in May having won 75 England caps.
In Parliament, Conservative MP for Worthing West in West Sussex, Peter Bottomley, has been knighted for his public service.
The 66-year-old was first elected in 1975 and served as a junior minister under Margaret Thatcher.
There were also knighthoods for Martin Broughton, chairman of British Airways, Roger Carr, chairman of energy giant Centrica, and Richard Lambert, the director-general of the Confederation of British Industry.
In the world of film and theatre, veteran actress Sheila Hancock, 77, who was born on the Isle of Wight and now lives in London, has been appointed CBE.
Poirot actor David Suchet, 64, from London, was appointed CBE for services to drama, having played a variety of roles on stage and screen for more than 40 years.