Water problems in North West 'unprecedented'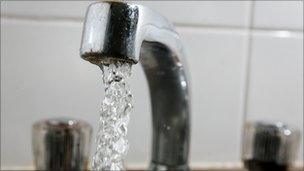 The North West's water supplier, United Utilities, has received more than 46,000 calls from people with burst or leaking pipes since Christmas Eve.
The company said the call volume was unprecedented and 10 times the usual amount. It recorded its busiest day on Wednesday with 12,000 calls.
It said when the ice melted the ground could move, putting strain on the water pipe network.
A spokesman said it had employed extra call-takers to deal with the surge.
More engineers and specialist leak detection teams are also on standby, and a 4x4 vehicle has been deployed to allow staff access to more remote areas.
The spokesman said: "We are also asking the public to help us by checking on any empty properties where they hold the keys, such as business premises or neighbours' homes.
"We want to avoid leaks in locked-up buildings causing water supply problems for neighbouring houses."
Homeowners are being advised that if there are any problems with the water supply, they should try to find the internal stop tap and turn it off.
This will help minimise any water loss if pipes have frozen and cracked and are about to thaw out.
Related Internet Links
The BBC is not responsible for the content of external sites.