Former Tipton soldier to run 52 marathons in one year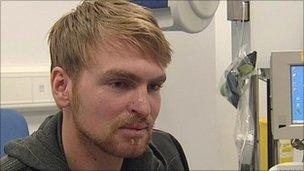 A former soldier who was burnt in a petrol bomb attack on his tank in Iraq is preparing to begin to run the first of 52 marathons.
Karl Hinett, of Tipton, West Midlands, has pledged to run a marathon every weekend of 2011 to raise money for the burns unit where he was treated.
His first marathon is in Zurich, Switzerland, on Saturday.
The ex-gunner's tank was set on fire by a mob in Basra in 2005 leaving him with 37% burns to his hands, legs and arms.
He was taken to a field hospital and then sent to Selly Oak Hospital in Birmingham.
He has endured five years of surgery and said he wanted to show staff how much he appreciated their efforts.
Mr Hinett and his Staffordshire Regiment colleagues had been taking part in an Army rescue operation to free two British soldiers who were being held in Basra when they were attacked.
Related Internet Links
The BBC is not responsible for the content of external sites.