Record Christmas for North East ambulance calls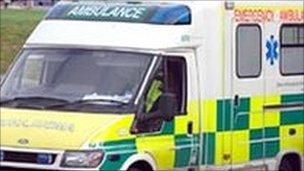 More than 1,600 extra 999 calls were made to the North East Ambulance Service (NEAS) during Christmas week leaving crews under "intense pressure".
Ambulance chiefs said people falling in snow was partly to blame, but could not account for all emergencies.
During Christmas week the NEAS received 8,726 calls - compared to 7,060 in 2009.
Director of operations Paul Liversidge urged people to wrap up warm and drink responsibly over the new year.
The calls peaked on Boxing Day night when crews received 1,317 calls - 842 more during the same night last year.
Mr Liversidge said: "Some of the spike in demand can be attributed to an increase in patients reporting respiratory problems, along with slips, trips and falls due to the recent cold weather.
"However, this doesn't explain why call volumes reached such high levels.
"This is an unprecedented volume of calls relating to all sorts of reasons and difficult to understand why it happened."
Under national targets, crews should respond to emergency calls within eight minutes.
Mr Liversidge said that even during the heavy snow and frost local response times never went higher than nine minutes.
He added: "What I can say is that the NEAS staff working during this busy period were magnificent, despite the intense pressure.
"They pulled out all the stops to ensure patients got an ambulance as quickly as possible."
Related Internet Links
The BBC is not responsible for the content of external sites.