Wootton Bassett to lose UK military repatriation route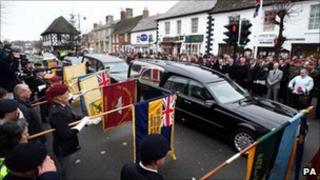 Hearses carrying the bodies of UK military personnel killed overseas will, from autumn, no longer travel through Wootton Bassett.
It is due to repatriation flights being switched from Wiltshire's RAF Lyneham to Oxfordshire's RAF Brize Norton from about September, the BBC has learned.
Residents of the Wiltshire town famously turn out to pay tribute as hearses travel to hospital in Oxford.
The Ministry of Defence said "no formal announcement has been made as yet".
But a spokesman added one was likely to be made later this month.
RAF Lyneham is to close by the end of 2012, with the majority of its planes, kit and personnel moving to Brize Norton.
Residents of Wootton Bassett in Wiltshire began spontaneously lining the streets to pay their respects to repatriated service personnel when flights switched from Brize Norton to Lyneham in 2007.
Route unknown
The town lies on the route the corteges take to the Armed Forces department of pathology at John Radcliffe Hospital.
The most recent tribute was paid to Cpl Steven Dunn, 27, who was killed in a bomb blast in Afghanistan on 21 December.
A hearse carrying his body passed through the town on Thursday.
Hearses are able to travel from RAF Brize Norton to the hospital along the A40, without passing through any towns or villages.
But parish councillors in the town of Carterton and village of Bampton have suggested the locations as possible alternative routes to continue the tradition begun in Wootton Bassett.
The MoD said any decision about the cortege route would be a matter for police, the coroner and emergency planners.
Thames Valley Police said it was not yet known what route would be taken.