Mystery bug killed Sandringham dogs, research finds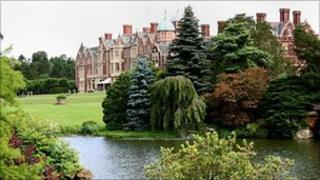 Six dogs that had been walked on the Queen's Sandringham Estate in Norfolk died from a mystery illness, new research has found.
The Newmarket-based Animal Health Trust was asked by the Sandringham Estate to investigate the cases.
The trust asked for help from members of the public and found 54 cases of what is being called Seasonal Canine Illness.
Thirty seven of the cases were from the Sandringham Estate.
The illness is not believed to have affected the Queen's corgi dogs.
The trust said that no conclusive answers have been found for the mysterious disease that begins with vomiting, diarrhoea and a high fever.
Investigating illness
The trust asked dog walkers at Sandringham, Thetford Forest in Norfolk, Sherwood Forest and Clumber Park in Nottinghamshire, to complete questionnaires.
They received 380 returned forms.
With this information about dogs, both ill and healthy, the organisation hopes to help pinpoint the cause of the illness.
"If we are not in a position to find the cause by next autumn, we hope to be in a better position to look out for it if it recurs," said a spokeswoman for the trust.
The illness is thought to have killed eight dogs who had been walked in Sherwood Forest in 2009.
A vet in King's Lynn, near Sandringham, also reported two deaths from the condition in 2009.