North West flu cases spark hospital beds warning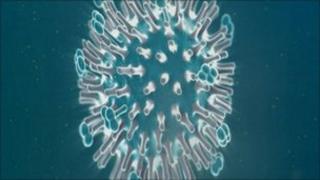 Hospitals in the north west of England are being asked to make extra beds available after a surge in flu admissions.
Figures released by NHS North West show 108 flu patients in critical care beds in the region, up from 74 last week.
All hospitals have plans in place to increase the number of critical care beds if necessary. NHS North West has now asked them to trigger those plans.
It is unclear whether admissions have peaked, NHS North West said.
'Expert treatment'
"We need to make sure that we are able to cope if we continue to see a significant rise in the number of patients with seasonal flu who need critical care," said a spokesperson.
Thirty-nine people in the UK have died with flu-like illnesses this winter, according to the latest figures released by the Health Protection Agency (HPA) last week.
All but three of them were infected with the H1N1 swine flu virus, while the remainder had influenza B, the HPA said.
Last week, the Royal College of GPs said cases of all types of flu had risen to 124 per 100,000 people across the UK. Its latest figures are expected to be released on Thursday.
The NHS North West spokesman said: "We would like to remind everyone that A&E and 999 services are for life-threatening and serious conditions only.
"The vast majority of normally healthy adults can self-treat for a range of common complaints - including flu - without having to go to a GP or to their local A&E department.
"We need to make sure that our A&E, 999 and GP teams can focus on those people who need expert treatment.
"The advice remains that if you are a normally healthy adult and you think you have symptoms of flu, contact NHS Direct for advice."