Flu cases rise four-fold in weeks across South East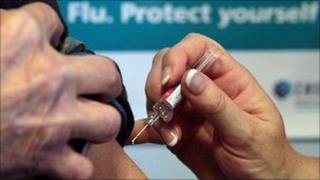 Cases of flu across Kent, Sussex and Surrey have risen more than four-fold in three weeks, the NHS has said.
Figures from NHS South East Coast said flu cases had risen from 19 out of 100,000 people to 87 out of 100,000 people since mid-December.
But the region's flu levels remain lower than the national average of 124 cases per 100,000 people.
NHS bosses have predicted a further rise in cases after children return to school from their Christmas break.
Before Christmas, health experts said they were seeing more cases of flu and winter vomiting than was usual for the time of year.
'Seek advice first'
Dr Yvonne Doyle urged people to practise good hygiene and to have the seasonal flu jab, which was free for people over 65, pregnant women, and people with other health conditions.
People with stomach bugs were urged not to visit hospitals or other health centres in order not to spread infections to vulnerable patients and staff.
People who were concerned about winter bugs could telephone their GP or NHS Direct for advice, she added.
Andy Scott Clarke, deputy director of public health for the NHS in east Kent, said: "The people who are likely to be more ill with the flu are those with chronic illnesses, or the elderly, or indeed pregnant women.
"It's those sort of people that we want to seek advice from their GP first before heading out of home and going to A&E."