Legal challenge over stalled Cheshire waste scheme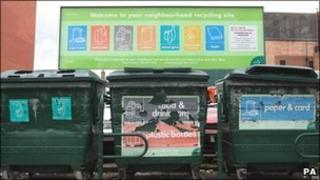 Cheshire's councils are taking legal action over the government's decision to withdraw funding for the county's £850m waste treatment plan.
The authorities were on the verge of a 25-year contract with Viridor when the government axed £100m of Private Finance Initiative (PFI) support.
Officials believe there were "serious flaws" in the way the scheme was assessed last year.
A High Court application for a judicial review will be lodged next week.
Both Cheshire West and Chester (CWAC) and Cheshire East councils hinted last year that they would seek a legal challenge.
The Cheshire project was one of seven identified by the Department of Environment, Food and Rural Affairs (Defra) that it felt were no longer needed to meet 2020 EU landfill targets.
Landfill problem
CWAC leader Mike Jones said: "We have decided to take this joint action because we believe that the methodology used by Defra to assess the merit of our scheme was seriously flawed.
"Also, it is our opinion that the assessment process has under-estimated the benefits which would accrue from that scheme."
The councils have already spent about £4.5m on the procurement process which led to identifying Viridor as the preferred bidder.
The waste management company had proposed a waste treatment plant at the former INEOS chemical works in Northwich, which would produce solid fuel from household waste.
It would then be transported by rail to a purpose-built power station in Runcorn to generate energy.
Cheshire East leader Wesley Fitzgerald said: "Both councils believed that there was government support for this scheme right up to the announcement that PFI credits were being withdrawn.
"We are still in the position of having to find a sustainable method of disposing of Cheshire's household waste over the next 25 years."
The unitary authorities said they both faced a "major problem of dwindling landfill space".