MPs call for recount on train punctuality figures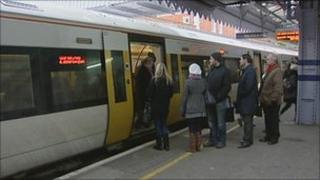 Three MPs are demanding that train operator Southeastern re-examines its punctuality figures after it narrowly met its requirement for 2010.
The company ran an average of 82.04% of trains on time, beating the 82% target below which it has to pay compensation.
"I think people will want reassurance these figures are accurate," said Tunbridge Wells MP, Tory Greg Clark.
Southeastern said the statistics were calculated using standard industry methods and audited independently.
Season ticket holders receive a 5% discount if the yearly average for punctuality drops below 82%.
Southeastern, which runs services in Kent, Surrey and Sussex, states on its website that it is not currently below this threshold.
Travellers, some of whose fares were increased by more than 12% on 2 January, suffered delays, cancellations and amended timetables during two periods of heavy snow in November and December.
Tracey Crouch, Conservative MP for Chatham and Aylesford, said she accepted Southeastern's figures were the average for the whole year but said she was surprised it had passed its target.
"I have seen estimates that only 5% of trains ran on time in the adverse weather conditions and I would be surprised if they were much higher in the snow in January 2010," she said.
Ms Crouch, Mr Clark and fellow Conservative Mark Reckless, MP for Rochester and Strood, have all called for Southeastern to look again at the figures.
"I think people will want reassurance that these figures haven't been the result of behaviour that the train company has engaged in to avoid paying compensation," said Mr Clark.
"Obviously they can't make the figures up but they do need to be scrutinised.
"People will want reassurance that trains were not cancelled to bring the figures in just above the target."
Southeastern said in a statement: "Punctuality and performance statistics are calculated using the standard industry methods and the process is audited annually independently.
"Southeastern operates a contingency timetable only when instructed to by Network Rail - the railway infrastructure provider."