NHS 'coping' with flu outbreak in South East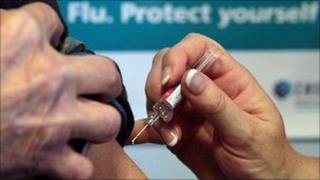 A total of 51 people are in critical care beds with confirmed or suspected flu in Kent, Sussex and Surrey.
NHS South East Coast said the number of people being treated represented less than 23% of patients in critical care on 6 January.
A spokeswoman said it had 222 critical care beds available and it was coping with the current winter pressures.
NHS bosses have predicted a further rise in flu cases after children return to school from their Christmas break.
The spokeswoman for NHS South East Coast said the patient figures represented a snapshot and they could increase critical care bed capacity if necessary.
'Well prepared'
She added: "There is always more pressure on the NHS at this time of year as the NHS deals with rises in slips, trips and falls, increases in admissions due to flu and other health problems associated with the colder weather and the winter vomiting bug noro-virus.
"But the NHS is well prepared and is coping well with the increased demand for services."
On Wednesday NHS South East Coast said the number of flu cases had risen more than four-fold since mid-December, from 19 out of 100,000 people to 87 out of 100,000 people.
But it said the figure was well below the national average of 124 cases per 100,000 people.
The NHS has urged people to practise good hygiene and to have the seasonal flu jab, which is free for people over 65, pregnant women, and people with other health conditions.
People with stomach bugs have been asked not to visit hospitals or other health centres in order not to spread infections to vulnerable patients and staff.